While the European Union aims to reduce the net greenhouse gas emissions by at least 55% by 2030, our present and future (green) technology still depend on materials we do not produce. The lack of sustainable access to several Critical Raw Materials (CRMs) – including permanent magnets – is probably the most critical challenge faced by the European raw materials sector. Substitution of CRMs (e.g. rare earths and cobalt) in permanent magnets is one of the priority approaches to advance towards a wise diversification of the permanent magnet sector in Europe.
During the SHIFT 2022 conference, which took place in Tenerife, the Canary Islands, on 10-14th October 2022, Alberto Bollero, from IMDEA Nanoscience Madrid and PASSENGER's coordinator, explained how a strengthened coexistence of rare earth-based and rare earth-free magnets can play a key role in achieving a green transition. He shared his insights on two promising rare earth-free alternatives to the strongest NdFeB magnets, which can become a future super-magnet. He also presented how the EU-funded project PASSENGER works on establishing eight pilot plants in Europe by 2025 for the industrial fabrication of these two permanent magnet alternatives.
How can Europe work towards achieving the European Green Deal objectives?
Common sense, responsibility and actions by individuals, institutions, companies and policymakers should come together if we are willing to achieve a greener, healthier future, says Alberto Bollero. In a roundtable on critical raw materials, panellists and experts on strategic materials in key sectors such as information technologies, energy, and transportation, also highlighted that:
Diversification is needed in the supply of raw materials: we can no longer delay a sustainable and responsible extraction of strategic raw materials that we own in European countries. Europe has the knowledge and the technology to succeed.
New policies are required to enable a faster response to new challenges under the supervision of an expert committee and aligned with the current conditions.
Diversification in the choice of materials according to the final application requirements. Researchers are successfully working towards reducing critical raw materials in our technology and in a broader range of applications in the future.
A change from a linear to a circular economy is required. Efficient reuse and recycling should begin without further delay, in parallel with the responsible extraction of raw materials to guarantee sustainable technological development.
Responsibility: we care more and more about our food's ingredients and origin. Let's begin to care about the origin of the technology we purchase and hope that a "Responsibility and Green label" will certify those products very soon.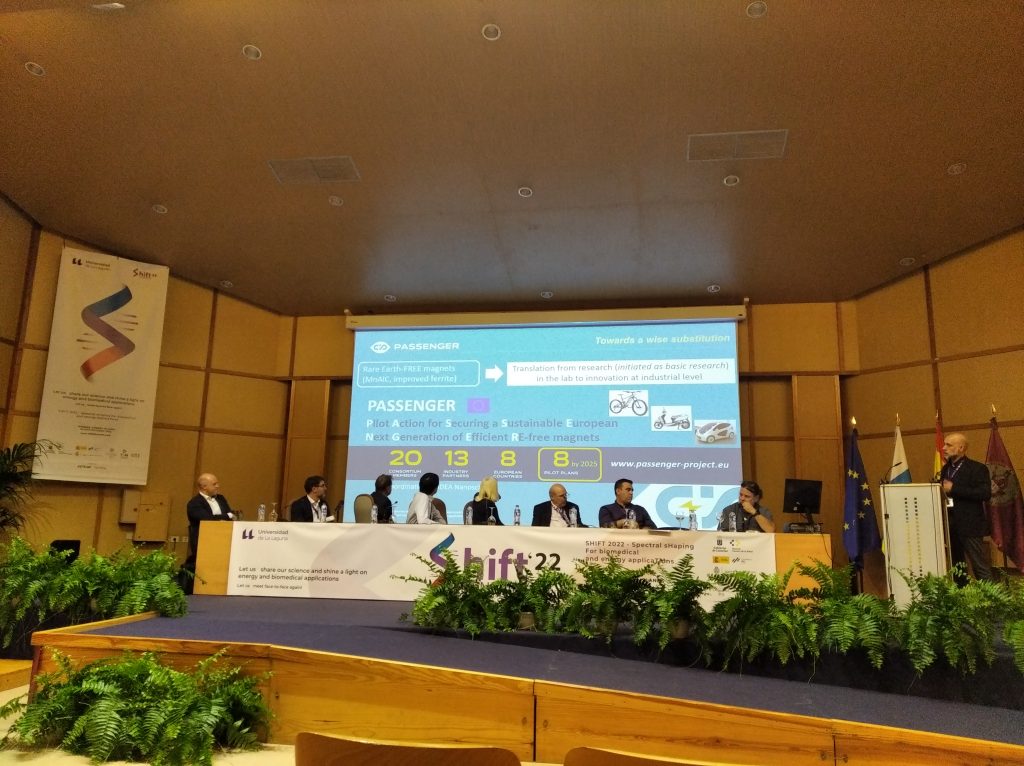 From left to right: Roland Gauss (EIT RawMaterials – Europe), Pier Luigi Franceschini (EIT RawMaterials – Europe), Jose Manuel Rodríguez Ramos (CEO Wooptix Inc, Spain), Kentaro Nakamura (University of Tokyo, Japan), Frances Wall (University of Exeter, UK), Tom Lograsso (Director, Critical Materials Institute CMI, USA), Jorge Méndez Ramos (Universidad de La Laguna, Spain), Jose Luis Costa Kramer (IMN-CSIC, Spain), Alberto Bollero (IMDEA Nanonciencia – Spain, PASSENGER's project coordinator)
Related links